I remember having many experiences in my first 20 years of my life, but none got my attention as much as the one I am going to talk about. So that you may understand a little more about me, I was born with a veil or caul and this I was told was a sign that I had the awareness of spirits around me. Born under the sign of Scorpio also gave me more insight into the spirit dimension. I at that time understood none of this except I did see and play with people that others could not see. They looked like everybody else. At the age of thirteen I got my first major experience.
It was early one morning during the winter months, when I was awaken by a noise outside my bedroom window that sounded like a spaceship from an old TV series landing in our front yard. I opened my eyes and said to myself, that I was not getting up to look. All of a sudden, I had to go to the bathroom real bad, so I jumped up out of bed and started walking to the hallway where the bathroom was located.
To explain first how the bedroom was set up. Our house was split leveled and had four rooms. Two downstairs, and two bedrooms upstairs. My mother and father had one bedroom and us five kids had the other. I had four sisters, one older and three younger. Our room had two windows that over looked the front yard and street. My oldest sister and I had twin beds. Mine was in the corner, then my oldest sisters bed was across from mine divided by a nightstand and window. There was another window on the other side of her bed. My other three younger sisters shared a bunk bed, that was up against the wall at the bottom of the twin beds. The doorway to the hallway was at the end of the bunk bed. There was a light switch between their bed and the door. The light switch turned on a light in the center of the ceiling of the room. Another door connected our bedroom with my mother and fathers room. This door was located near the window on the other side of my older sisters twin bed.
To go to the bathroom I had to walk between my older sisters and my bed and turn left and walk between the bottom of her twin bed and the bunk beds. Then turn right and go out threw the door to the hallway and turn left and down the hall.
As I started walking between my older sisters and my bed, I saw an image of a person sitting on the lower bunk bed near my younger sister Nancy's head. It looked like something made up like the TV screen when the station has signed off. It was not as bright and hard to see. You could tell it was a form of a person. A chill went through me and I grabbed the covers off of my bed and started to swing them at the image, when my older sister jumps up out of her bed and grabs the covers out of my hands. At the same time the light in the center of the room comes on. My sister is yelling at me and so my mother comes into the room to see what is going on. My sister tells her that I was running around the room swinging my bed covers at something. I tried to explain to them what had happened, but my mom wouldn't listen. I asked her, who had turned the light on, for none of us was near it to do it. She had entered through the door between our bedrooms which was not near the switch. My other sisters were still asleep. She told me that I was just having a nightmare and I should just go back to bed and talk about it in the morning. I was so scared that I crawled in bed with my older sister and covered my head until daylight.
The next night I was afraid to go to sleep, but I did. That morning I was again awaken by the same noise. I wasn't getting up again but, I had to go to the bathroom so bad I had to get up. I didn't look out of the window, but noticed the time was 4:20 am. As I turned toward the bunk beds, there it was sitting in the same place. I grabbed a baseball bat that I had placed beside my bed that night just in case. Again, as I went to hit the image. My sister woke up, jumped up and grabbed the bat out of my hands and at the same time the light went on. Again the disturbance aroused both my mother and father. They were very angry. I again tried to get them to believe me by realizing that no one awake was near the light switch to turn it on. They were more concerned about me having a nightmare and disturbing their sleep. They threatened to commit me to a mental institution if I didn't come to my senses and stop this. My dad said, that I probably seen a reflection of light shining threw the venation blinds and onto the bunk bed.
I knew something was happening here. I felt that I was seeing a ghost. This was nothing like the spirits I had seen before. After school, I went to the library and read up on some ghost myths and found that they don't cross water and don't like fire. Well I couldn't flood the house or set a fire so I bought a windup toy tank that shot sparks. I went home and spent the evening testing it. I tested it by having it go from my bed to the bunk bed, where the ghost was sitting the other nights. It worked perfect. That night I also sat a basin of water, a washcloth, and a glass of water on my nightstand to make sure I was awake.
This time I tried to stay awake, but fell asleep, and again I was awakening by the spaceship noise in the front yard. And again all of a sudden I had to go to the bathroom. I got up and looked. It was there. I looked at the clock and it was 4:20am. We had Venetian blinds on our windows so I moved then up and down to see if there would be a difference and there wasn't. I then drank the water and washed my face to make sure I was awake. It was still there. I then picked up a stick to flip the switch on the toy tank. I flipped the switch and nothing happened. I was shocked, and I tried it again. It still didn't move. I checked the tank to see if it was wound up too much and it wasn't. I tried it again, it still didn't work. So I raised the stick to hit the ghost and again the same events begin to happen. Even the tank moved across the floor to where the ghost was sitting. I knew I was in big trouble this time and was on my way to the mental institution. So I didn't even try to explain and went back to bed and stayed awake under the covers until daylight.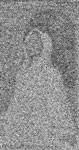 While I was at school that day my mother went to visit my Aunt Jessie, who is one of my fathers seven sister. She and her sisters were known as, "The Seven Sisters." They were of the Spiritualists Religion and at that time were considered a cult. My mother really didn't want to tell them of the problem that I was having, but she had no one else to turn too. She had a hard time believing in their spirituality. When she entered the house my aunt greeted her and told her she was wondering when my mother was going to come and tell them about my experiences. My mother was surprised she knew and thought maybe my dad had talked to her about it. My Aunt said no, and that the spirits had told her and that nothing was wrong with me, and that I was being visited by the blessed Mother Mary. She told her to tell me the next time I see her, that I am to hold out a part of my pajamas and ask her, "What in Gods name does she want with me?"
That evening after school my mother explained to me, what I was to do. I said, Oh boy. I hope I can do this. The spirits I was experiencing seemed to be just like me, but the divine mother was so much more. Why me? That night was pretty much the same except that she was standing near the doorway to the hallway and I could see more of her. I stood by my bed, but I couldn't say anything. She stood there for a few minutes and then faded away. I have not seen her in that form since.
Today, I feel that I did get a message from her. At that time I was too young to understand the significance of the experience until twenty years later when I was involved in a shooting incident. I was shot and the experience began to answer a lot of questions for me. When I talk about this experience, I'm always asked, "Did I ever get to the bathroom?" When I got out of bed I no longer had to go. I feel that was just a way to get me up to see her. Since I have become aware, she keeps me on track by appearing in the clouds as beautiful sunrays, and cloud formations. Especially, when I am worried about something. I was also told that she would appear in many forms and in many places. She has also made her presence known to a few of my friends. They didn't believe me until they experienced her presence themselves.
After many more experiences that showed and taught me so much about our journey, In 2004 I wrote a book about my experiences titled, "Living In Flow Motion." At that time in my life I had only read six books and don't care to read. I surprised my friends by writing it, and it helped them understand me and spirits more. It has assisted many in feeling that they are not crazy or alone in having these experiences. Today I understand that I am a Caulbearer. Caulbearers are babies born with a veil over their face. I have accomplished so much over the years with spirit assistance. All that I have experienced was for a purpose on my journey to share my information with others. That's what I now do. I am in the process of writing a new book on what I know now. I know it will assist those during our shift in consciousness. It will be released soon and explain why I was visited.