Many moons ago when I was 16 - I sat in the dark with a sharp kitchen carving knife - I was going to end it all-
'Please God ', I begged 'Make it quick'. I saw the dark unstarred sky outside over the Atlantic and thought soon I will be part of that.
Just then a light so intense which seemed to come from the dark ocean outside shot through the window pinning me to the bedpost!
I was transfixed - unable to move
I thought I must have done it! And I am in heaven! I was EUPHORIC - ESCTATIC - BLISSFULL
I don't know how long I remained like that - It had to be hours as by the time I 'came round' it was dawn and time for school...
I went to school - still awestruck - as I sat down in my usual place I realized I could see things - I could see parts of the girls intestines in front of me - what she was eating - how it affected her- I could read thoughts - see auras - had vast amounts of information streaming at me -
...
To jump to now - in 2005 I was writing a screenplay. Based on a great plot - the would be producers were eagerly awaiting the first draft...
We were counting our $$$$ - we were that certain about this plot. However every time I sat at my lap top - something else began to write...
I resisted and resisted but it won.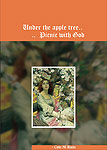 Now 4 years later I Present the work to you - I ask WHO do YOU think wrote this? It IS a remarkable work - truly MAGICAL and truly inspiring
Here it is
AN EXCERPT -
Once upon a very real day in my life, having wandered for hours and hours, all afternoon and into the evening, lost in thought, full of emotion with more than a few broken dreams at my feet, I happened upon an apple tree and sat beneath it, slumped with deep dismay.
I had been trying for decades to understand this life of mine and the whole of our world.
Finally I gave up the inner struggle and quite simply surrendered.
"There are no absolute answers", I moaned aloud. " I give up."
And I really did give up. But in the silence that arose all around me - there came a voice, a soft voice and it was not my own, but it spoke and I heard it within.
"I am who am", the voice whispered. "And I am who you are too... For we are one, you and I and your mind is my mind. We are connected- Forever."
I was stunned, of course but the voice simply went on. There was no stopping to reflect - not just yet.
"Your mind is my mind - but my mind is ALL MINDS. My mind is time itself and the very space you inhabit. I am the Alpha and the Omega. I am this moment - always."
I waited but nothing more was said for a time.
"This is all very cryptic," I protested at last. I was not at all convinced, so I sat with head in hands-
"I cannot understand," I uttered.
The voice laughed.
"You have come for a picnic, perhaps?'
A ripe apple fell from the tree -
"When an apple is ripe, so it falls," the voice stated.
'You, too, are ripe and ready now. And if you listen, I will tell you precisely what you need to know The truth is - you are in paradise itself, dear one, and I Have listened to you for years...
(and the following is all that was spoken
-listen...)
CHAPTER 1
.
Yesterday.
Dear You
I see you in the garden,
Head in hands.
Why so glum?
Why so miserable
In paradise.
I watched you as you left the garden.
You came with your wish list to whisper to the stars.
Your soul was on fire.
"THIS TIME "
You said,
"This time,
I want results".
You fell asleep.
THE stars twinkled
...
You dreamed that you were in a garden.
You dreamed that you had a wish list
You dreamed you had all the answers
You dreamed you knew
That there was a real truth
You dreamed that the answers were written across the sky
Clear for all to see.
You dreamed that you looked at the stars
You dreamed that you said, "What's the point"
You dreamed that you threw the crumpled wish list in the gutter
And left the garden, dejected.
I have here in my hand that wish list.
Awake my friend.
Wishes are ALWAYS
Granted...
Really all your wishes
Add up to one...
And here I quote you
"To make sense of this place
What is this life about?
What is
The plan?
Is there even a plan...
If so who or what is
The brains behind it all?"
You are on the most fantastic journey
And don't even know it...
Yet...
Really
One wish
Answers all of that.
YES
YES is the answer.
YES
There IS magic
YES
Money
DOES
Grow on trees
YES
There
IS
A pot of gold
Not only at the end
But
ALL along the rainbow
YES
There is
A super being
A Santa Claus
Good faery
Guardian Angel
YES YES YES!
Think about it
How can you imagine
What CANNOT exist?
-IMAGINATION -
Is key to creation.
TO IMAGINE
Effectively,
IS
TO
CREATE
To create is to give life.
***********
NEW PAGE
The answers
ARE
WRITTEN
PLAIN
FOR
ALL
TO SEE
But
No one has told you where...
Ok here goes
...
Life is very simple
It is not complicated
Not one bit.
Trust me
I should know!
...
I know you wonder
About YOU.
About me.
About life.
Who I am?
Who you are?
What is it all about
And
What
Is going on...
There is a great deal of discussion
As to
The "meaning" of life...
People have all sorts of theories...
Life means Life
...that's it!
I WILL EXPLAIN...
Ok so
What exactly is this
Teeming fertility of everything...
Called life...?
Today I will
Tell you.
Take the time.
Read this
...
Carefully...
It is a tale of enchantment wonder and delight.
Every word is chosen.
Every word is precious.
NEW PAGE
You have probably gathered by now
That my name is God
So that's the introduction over!
But
I want to tell you so much more...
I am
As you know,
The Creator
Of all things.
I am
Where I am
I am an infinite movement
A never-ending lapping on the shore
The gentlest touch
The strongest mind
The wildest winds
The softest breeze
I am Breathtaking
An overwhelming sight.
I am the loveliest fragrance
The perfect song
The Happiest laughter.
I am intelligence.
I am
Pure love
I am JOY
BLISS
LAUGHTER
FUN
ENCHANTMENT
I AM
A snowflake
A dewdrop
A daisy petal
A swan
A cloud
A grain of sand
A mountain
An ocean
A breeze
A feather...
I am ALL that you see
At it's most perfect
All that you feel
At it's most perfect
All that you hear
At it's most perfect
All that you smell
At it's most perfect
All that you taste
At it's most perfect.
A limitless source
Of Everything.
THE ULTIMATE IN EVERYTHING
Nothing exists
Outside of me
And outside of me IS
Nothing.
I am silence.
I am music
I am space
Active or passive...
I am light
Shining so fast
I am invisible...
I am
Whatever I choose
Whenever I choose...
All of this you are thinking
"Well,
To be honest God,
None of that is new to me".
But it is new to you
Because up to now
This was just an idea,
A concept,
A theory...
In your head
Now I want to get real...
...
Yes
It is true
I am your God
I am your God.
The one who makes you
But you are my God
The one who makes me
I am your God
The one who gives life to
Your good desires
You are my God
Because you desire
What I give life to...
You command
And I obey
Not the other way around.
But I am here to help
One hundred percent
By inspiration...
By showing you clearly
What will
Or
Will not
Work...
Relax
And
I will explain.
NEW PAGE
You are my God
Because you
Have the power to
DO as I do
The power to express me
And
The power to express
WHO
YOU
REALLY
ARE.
.
We are mirror images of each other.
You
Also are everywhere in life
And can do anything with life.
But you do not
Recognize it
...
Yet
Keep listening-
This gets very clear.
Plus
You probably, already, have a hunch that this is true...
...
NEW PAGE
For so long now you have been seeking answers...
Questions fill your mind, sometimes,
Wondering what its all about.
I've always promised that when you knock the door would open...
But when you knock
You ask
For
The strangest things.
For so long now I've watched as you miss the answers,
Even thou' they are under your nose
For so long I've heard you ask...
Why god?
Why?
When those strange things happen.
And for so long now
I've heard people say
"Ah it must be gods will"
Or
It 's bad luck
When something goes wrong...
Believe me
It certainly is not MY will
And "luck"
Is a DEFINITE
Once you know how
To
Use
It...
NOTHING BAD IS MY WILL...
It
Is
-Strange as it may seem-
Yours.
Listen...
Everything good that you can possibly imagine
Already lives
In a state of anticipation
Eager for expression - life.
For physical expression of all that is-
Earth is the best place.
It is a sort of melting pot, if you like.
All the elements of attraction
Bond perfectly here
To hold matter together.
You have heard the expression live life to the full.
But that too is just a concept.
Now I am going to tell you how...
You will finally see, hear, sense and know
What seems to elude you
ABOUT YOU
ABOUT LIFE.
NEW PAGE
IN six days I made all that pleased me.
IT WAS AWESOME TO BEHOLD
All that represented Me.
It was sheer delight.
Everything was
PERFECTION
IN DETAIL.
...
Flawless.
YES,
I saw the perfect grace of the trees
The flowers
Birds and animals...
Yes,I saw how they operated according to their
Individual make-up.
They were perfect!
But there was more...
While all of these things were radiant
They had no real challenges to the spirit
How does a spirit know its strength?
Its beauty?
Its power?
What evidence could it give?
These things of great awe and beauty
Did not fully answer.
They did not fully
Explain to me WHO I was or
What I was capable of -
They radiated
And reflected back an amazing beauty
And serenity.
They soothed, whispered, communed with the heavens and earth.
We spoke and loved each other.
BUT they did not test me.
They knew my spirit
They read my mind
And yet, I knew there was more.
And the wind blew-
Leaves rattled...
Everything smiled
All at once.
I wondered if I could put ALL I had made
The sun, moon, stars, heavens, earth, trees, plants, animal,
Minerals,wind, rain, fire,water,
Into ONE being.
And so
I re- "thunk"!
And a dream unfolded,
Full of magic,
Laughter,
Joy,
Love,
Abundance,
Courage,
Power,
Mystery
And
Music
All that was within me!
Suddenly
All that I had made up to this,
Fused!
Vegetable, animal, water, mineral
Stars
Everything!
And there was a GREAT stirring within me
Instantly it
CAME- TUMBLING - POURING- GUSHING OUT
And
What was gestating in me
Was finally born...
THERE YOU WERE...
BEAUTIFUL.
MAGNIFICENT!
SMILING!
Standing tall and erect
Your feet on the earth
Your mind in the heavens.
A glorious spirit
In human form
Basking in luminous creative substance.
And I
FELL IN LOVE with YOU
YOU
The WONDER OF YOU...
ALL ENCOMPASSING YOU.
THE ULTIMATE
MY ULTI- MATE
YOU!
NEW PAGE
YOU were the culmination of everything I had done to that point...
You literally were everything put together in one...
"Now- My YOU ", I said " here is something
"QUITE SPECTACULAR...
This has to be the ultimate
I CAN NOT IMPROVE ON THIS.
I had found the perfect code...
The perfect mode!
It has all the beauty of the tree
Tall and strong-
The radiance of every planet-
The fragrance of every flower-
The openness of every petal
The freshness of every dew drop
The clarity of a rain drop
The might of the oceans-
And the riches of the universe...
All the colours of the rainbow
All the notes of the scale...
All the talents of the planets
All the wisdom and secrets
Of every other living thing.
One who has All my attributes
Powers
Awareness
Feelings
Desires
One who has my mind..."
Everything I had previously made
Went into you...
There was no more to do
And so I rested.
Let this one continue in creating ideas and ideals
Let this one play
Here
Forever
If this one so wishes...
Let this one
BE.
I will hand it all my laws of attraction
And
Creation
Dominion over every atom
And this one can gather them together
As it will,
To make whatEver it wills
Dance for it joyfully in the heavens...'
To stoke the light of the heavenly fires
Into even more beauty...
And shining through this one
We can create
And create
And create
To the end of light...
So that we
Together can dance
Down the pathway of eternity
Back in time to
Rest once again
In our original brilliance...
Should we so desire-
As silence-
Peace-
Space-
In the heavens...
It was a dance
And we were partners
Giant Masters of the universe...
With planets,stars, atoms
All as playthings
***
NEW PAGE
On the seventh day
I rested.
Because
On the seventh day, it was your turn -
To create all that represented you...
It is still
The
Seventh day.
Everything was complete.
But
I'm still here waiting...
NEW PAGE
Really, So far,
You have created very little.
You can produce SO much...
Have you forgotten?
WHY?
Why so little...
You OWN everything.
I gave it ALL to YOU.
You are an ANGEL
A God.
A creator.
***
You ARE
A
Sight
To
Behold...
Remember?
Surely you remember but do not know that you know...
For
You
Are
Asleep...
You climbed into a cocoon
Curled up
And never came out.
Have you forgotten, already?
Wake up
WAKE UP!
It is time...
YOU
Have a story to tell-
A touch to deliver-
A love to melt
The hardest hearts.
You are a glorious vision
Yes
YOU
I don't care WHO you think you are
I don't care if you think I could not
POSSIBLY
Mean you.
I DO.
Every cell in your body
Carries life.
Life is pure power.
As long as you breathe
It is in you
Wild
Rampant
Virile
Fertile
Yearning...
Harness it.
NEW PAGE
And you may say -
God
What ARE you on about -
Look at me -
"I am good
I go to work
I don't beat my wife
Or hurt my kids" -
And yes -
This is ALL true -
But you are capable of incredible things too...
Incredible, to you, that is-
Would you not like to be a super - hero?
If not -
That's fine -
If yes and you are frustrated at the moment -
Then read on...
And if you have loved ones
Then definitely read on
Maybe you ARE hurting them...
CHAPTER TWO
MIND YOUR MIND
MINE your MIND.
Now there are two ways to do this
And
For you to understand
It is essential you understand your mind...
What other species has mind?
You may see life or not,
As your greatest gift,
AS life just goes on and on.
But I beg to differ
I see Mind as your greatest gift.
Mind has
Free will.
And therefore mind determines WHAT EXACTLY you DO with life...
So would you abuse this instrument of
Wonder?
It is the portal through which you
Can receive all information -
Or deny it.
It is the builder or the destroyer.
It is the censor
On the door of your life.
Because of free will,
You get to be God.
Because of FREE will
You decide - and set up the experiences you call life.
Mind is your treasure...
IT CAN MAKE or ' BRAKE ' you.
In the twinkling of an eye
Mind can build or destroy-
Not me
Not life
Mind.
Mind is your tree of knowledge
Good or evil.
And you may say-
" then God
Why?
Why give us mind?"
Who can have life or indeed create life
Without mind?
How?
Without mind
You are only existing.
With it - you are Gods.
Just look at inspiration-
Ideas-
Creativity...
Where in the universe do they come from?
Space?
Yes!
What's in space?